What is the Taha Procedure?
The Taha Procedure
The TAHA Procedure is a personalized plan developed by one of the most passionate and gifted spine surgeons around. What is different about The TAHA Procedure? It's different every time. Dr. Taha developed a method to help patients get the care they need. He doesn't choose one of only few procedures to recommend to all patients, unlike the current practice in most spine centers. Instead, The TAHA Procedure is chosen from a comprehensive and wide spectrum of treatments that range from nonsurgical modalities to the most minimal invasive bandaid and laser procedure and yet to the most complex corrective and reconstructive procedure. He educates the patient on ALL their options and together they decide what their Taha Procedure will be, based on the specific patient needs, goals, age, habitus, medical condition, social factors and patient wishes. Unlike other procedures where one size fits all, The TAHA Procedure is designed and tailored to you specifically!

Treatment Approach
Dr. Taha and his team include a continuum of treatments with a network of established experts for comprehensive care. They find treatments that are best for you and your lifestyle. Those range from non-invasive to minimal invasive to more invasive treatments that may include muscle stretching and exercise programs, holistic approaches, massage, infrared, ultrasound, heat/ice, electrical stimulation, tissue rejuvenation, traction, bracing, disc decompression, and spine injections. They also include wide spectrum of spine procedures ranging from bandaid spine surgery to laparoscopic spine surgery to minimal invasive decompression surgery to minimal invasive fusion spine surgery to minimal open spine procedures, to disc replacement surgery to corrective and reconstructive spine surgery to complex kyphosis and scoliosis surgery to redo previous failed spine surgery.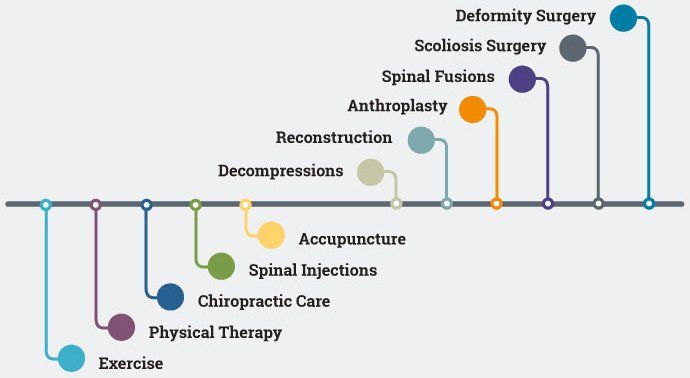 available treatment procedures
Neck (Cervical)
Anterior Cervical Discectomy with Fusion
Anterior Cervical Artificial Disc
Anterior Cervical Corpectomy and Instrumentation
Item 4
Lower Back (Lumbar)
Anterior Lumbar Interbody Fusion

Lumbar Laminectomy
Minimally Invasive Lumbar Discectomy
Posterior Lumbar Interbody Fusion
Posterolateral Lumbar Fusion
Spinal Fusion Surgery
Spinal Decompression
Transforaminal Lumbar Interbody Fusion
X-STOP Spacer
Balloon Kyphoplasty
Direct Lateral Interbody Fusion

Anterior Lumbar Corpectomy And Fusion


Lumbar Laminectomy

List Item
List Item
Brain (Cranial)